Sr.
Mery
del
Carmen
Moreno
Cruz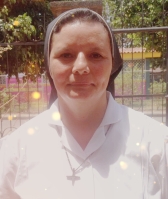 Structure: Province of Bogotá
Member: Elected
Profession: 01/07/1990
I am colombian, an ex-alumni of the Presentation School.
In the school, where through the witness of the sisters, I came to know of the Charism of the Congregation. I am a professed religious for 29 years; I have a degree in Philosophy and Religious Sciences from St. Thomas Aquinas University, Bogota and a Licentiate in Theology with a Diploma in Pastoral Theology from Angelicum University in Rome. I am an educator of the heart and convinced of the power of prayer and I trust in the Lord.
Present Mission
I currently live in Managua, Nicaragua where I am the director of the Monte Tabor Diocesan Institute and together with two other Sisters, one from Colombia and the other from Nicaragua, we try to make the Charism known and announce Jesus Christ with our lives.
What you think are the great challenges for the Congregation in the next 5 years?
To strengthen in us human dimension of life so that we feel happy for what we are and what we do.
To be sisters who go out to meet the most needy, be at the side of the excluded, immigrants and extremely poor.
To create communities that convoke and to make vocation ministry more effective and real.
To have clear criteria on our work in collaboration with the laity.
To continue to make our Congregation more open to internationality.