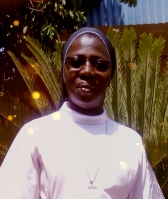 Structure: Viceprovince of Africa
Member: Elected
Profession: 10/14/1998
I am an ivorian. I made my first profession on the 14th October 1998.
I am currently on mission in Korhogo Community in Ivory Coast (Côte d'Ivoire). I am a primary teacher in addition to pastoral activities.
Present Mission
Viceprovincial Council.
What do you consider to be the main challenges for the Congregation in the next 5 years?
To welcome the restruturing of the Congregation as a new breath with the idea of revitalizing the mission by going beyond the borders.
To live interculturality in the Congregation.
To put the economy at the service of the charism and of the mission.
The formation.