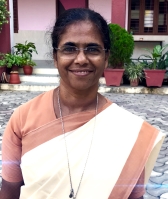 Structure: Province of India
Member: Ex Officio
Profession: 05/31/1986
I am a Dominican Sister of the Presentation for 33 years.
For the past 26 years I am an educator, helping students to learn how to develop relationships that will enable them to live their lives to its fullness and cultivate desire and ability to think and learn about the world around them
Present Mission
What you think are the great challenges for the Congregation in the next 5 years?
The greatest challenge for the Congregation for the next five years will be restructuration that will deal with renewal of mission to attend to the needs of the globalized world today. The Congregation must prepare future missionaries who are capable of living interculturality. Partnership in mission is also a challenge.