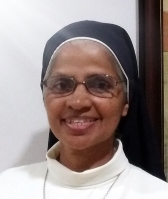 Structure: Province of India
Member: Elected
Profession: 04/29/1984
Happy being a pioneer and part of the international mission in the Philippines.
I was the animator for the community until last year . Now I assume the responsibility of coordinating the two Communities. Being grateful for being chosen, blessed and look forward to be present at the general chapter for the first time to experience the communion with our sisters and the Lord who is constantly at work in our Congregation.
Present Mission
Formation ministry and also teaching in the high school in one of the nearby towns.
What you think are the great challenges for the Congregation in the next 5 years?
Restructuration, reorganization and Revitalization our life and Mission.
Searching , finding, creating new ways of being in the mission and accepting the changes and risks it will involve.
Moving forward in deep faith, courage ,constant listening to the Spirit , and trusting in the providence of God who will open new avenues for mission.