Sr.
Anasthasie
Zinissida
Kissou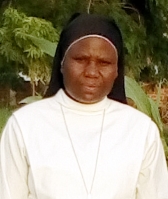 Structure: Viceprovince of Africa
Member: Elected
Profession: 08/08/2008
I am from Burkina Faso. I made my first profession on August 8, 2008.
I have completed studies in Sociology and pedagogy of education. I participate in the education ministry. I am professor of French, Civics, religious education in Marie Poussepin's School, at Lougsi in Burkina Faso.
Present Mission
What you think are the great challenges for the Congregation in the next 5 years?
To live and serve in an intercultural community and mission.
To continue seriously the process of reorganization of structures, encouraging revitalization of mission.
To promote collaboration and sharing between Provinces.
To prioritize formation.
Live itinerancy: going forth, crossing borders, welcoming diversity as richness.