Sr.
Nilda
Leticia
Miranda
Romero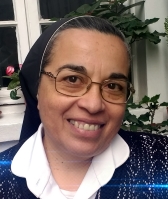 Structure: Viceprovince of Aconcagua
Member: Ex Officio
Profession: 05/03/1992
I am Nilda Leticia with Chilean nationality. I have lived 25 years of Religious Life.
My main mission was as an educator in the schools, where I have lived with much joy the mission with children and youth... The mission in the peripheries is my passion, I have been able to live it with much dedication and fidelity to the Lord in the generous dedication to the people who are suffering, especially in Mendoza, Argentina where I was able to offer my services for 6 years, with the chosen of the Lord.
I hope that this chapter will bring about something new, in terms of restructuration and also in our collaboration with the laity.
Present Mission
Vice Provincial Superior.
What you think are the great challenges for the Congregation in the next 5 years?
I think that one of the greatest challenges we have to face: Religious Life and we, ourselves as a Congregation as we are becoming a small remnant, which will bring out a new experience of fidelity of a new covenant for the life of the Congregation, a new hope to respond to the signs of the times, of the present moment that we need to face, and we cannot do this alone and we need collaboration of our lay brothers and sisters committed to the congregation.
And another great challenge is to be able to look at REESTRUCTURATION as a Good News, a great opportunity for missionary conversion and that this restructuring is not for personal good, but for MISSION.
To put the mission at the center of our lives, this is going to make possible a new vision, because the mission renews Spirituality, Government, Formation, Apostolic Activities and Economy. All this will lead to a reorganization in the congregation.