Sr.
Sandra
de
los
Ángeles
Segovia
Gallardo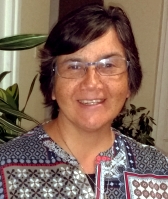 Structure: Viceprovince of Aconcagua
Member: Elected
Profession: 02/12/1989
The Lord called me from a family of seven children.
I received an experience of faith, way of contemplating reality and committing myself to it, from my Father. I have been very happy to welcome Marie Poussepin's project as my life project, it has been a continuous search. As a missionary disciple, I feel part of the small remainder, which believes that another world and Church is possible. I want to be the protagonist of a consecrated life which, being itinerant, does not conceive of itself, but goes out, welcoming the newness of the new generations and being a companion on the way of all the brothers and sisters, which the prevailing system leaves on the edge of the road. I come to the Chapter with my sisters and with my Missionary Brothers of the Presentation from Chile and Argentina.
Present Mission
- Local Superior
- Accompaniment of Pastoral mission and Catechesis in the church, St. Joseph the worker, La Favorita, Mendoza - Argentina.
What you think are the great challenges for the Congregation in the next 5 years?
1. The type of consecrated life that the congregation wants to live and strengthen in order to be a viable response to the reality of the society and Church in which we live.
2. The new generations, as authors of a new consecrated life, will undoubtedly recreate the service of Charity.
3. The implications of international mission for the Congregation today.
4. The mission shared with our lay brothers and sisters to deepen our experience in mixed communities.
5. A determined and renewed option for Justice and Peace, which will allow us to update the service of Charity in new faces of misery.