Sr.
Luz
Mery
Chaverra
Rodríguez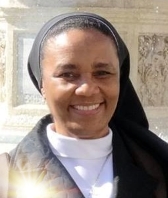 Structure: Province of Medellín
Member: Elected
Profession: 12/08/1985
My nationality is Colombian from the department of Choco.
Date of my profession is December 8, 1985. I am an educator.
Present Mission
Principal of the Presentation School, Rionegro, Antioquia. I am a profession in the Catholic Oriental University of Rionegro, Antioquia.
What you think are the great challenges for the Congregation in the next 5 years?
From my point of view and from the reflections that have been made in recent years at the level of the Congregation, I think the challenges are:
• Fraternity and community life according to the dream of Marie Poussepin will always be a challenge.
• Going forward with the process of restructuration.
• Acceptance of diversity without distortion of the essence of community.
• To continue to strengthen inter-related work or mission in order to overcome the borders between structures.